Protecting biodiversity requires collective efforts from humanity, and businesses play a crucial role as key drivers and protectors of biodiversity in their operations. The 2030 Action Targets of the COP15 Kunming-Montreal Global Biodiversity Framework include disclosure of biodiversity commitments for large multinational companies and the financial sector. Additionally, the Dow Jones Sustainability Indices (DJSI) introduced a biodiversity category starting in 2021, requiring companies to make commitments and take actions to ensure that their operations, including their value chains, do not harm or impact biodiversity, and to establish relevant policies, management goals, and monitoring methods.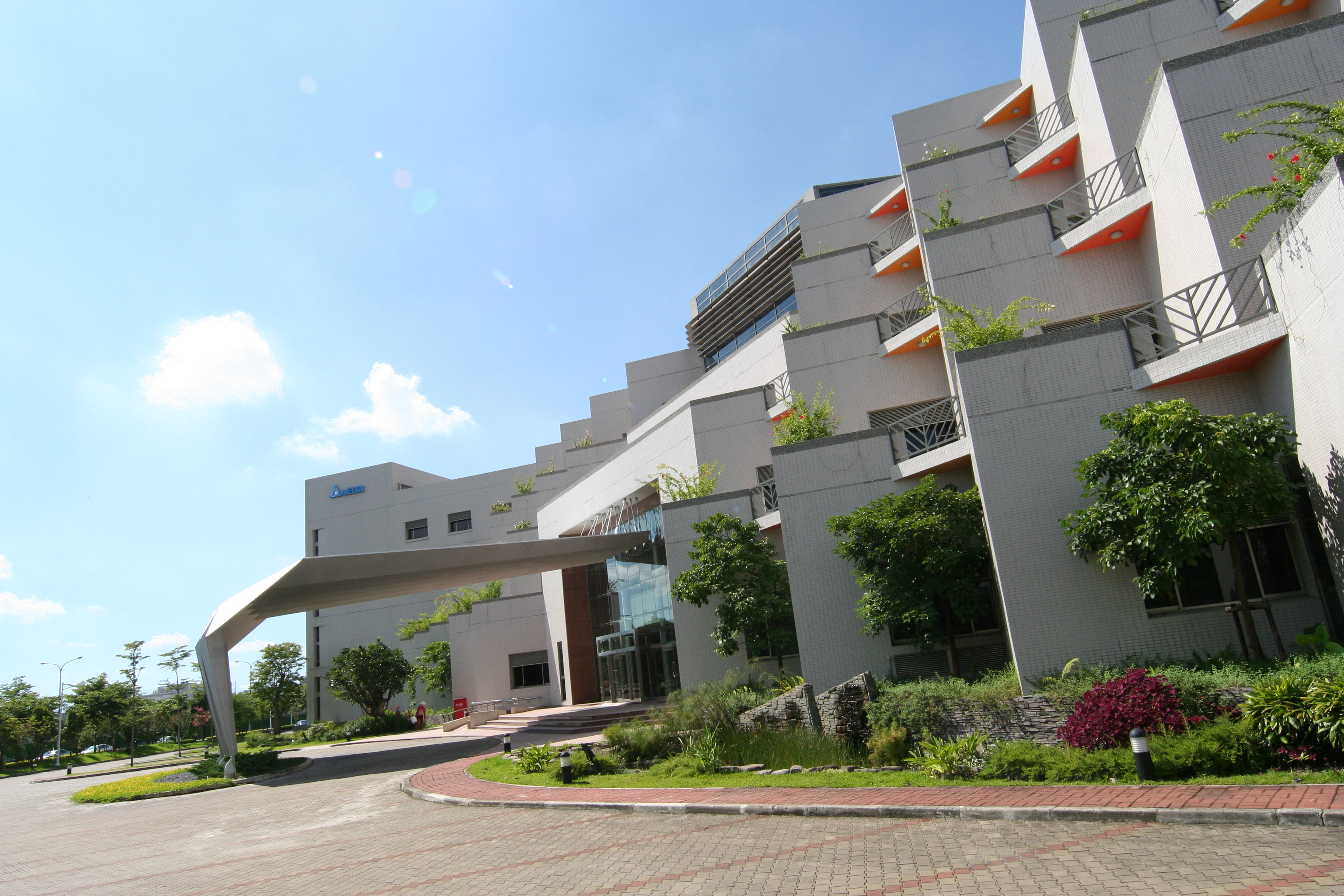 Delta's green buildings showcase diverse plantings and eco-friendly designs, exemplifying our commitment to biodiversity.
Integrating biodiversity into its sustainability strategy, Delta aims to achieve net positive impact by 2050 Biodiversity is an emerging issue for businesses, but for Delta, whose mission is "to provide innovative, clean and energy-efficient solutions for a better tomorrow," it is not unfamiliar. Delta has long ceased serving beef in its employee restaurants and has incorporated various plants and constructed ecological ponds in its green buildings since 2006. In recent years, project teams have conducted ecological due diligence by visiting renewable energy sites. The office promotes paperless operations and uses non-deforestation-certified paper. Delta's scuba diving volunteers are also involved in coral restoration. Furthermore, our 8K documentary film on marine environments has garnered recognition at the WorldFest-Houston International Film Festival and the United Nations Climate Change Conference (COP), showcasing Delta's decades-long efforts in safeguarding and promoting biodiversity.

In 2022, with the support of the board of directors, Delta formally incorporated biodiversity into its sustainability strategy, demonstrating its commitment and initiating a new chapter in biodiversity protection. We have established seven commitments and guidelines, including avoiding ecologically important habitats when establishing facilities, implementing biodiversity standards based on green building principles in new plants, minimizing the ecological impact of raw materials and avoiding deforestation, and minimizing the ecological impact of renewable energy. Our short-term goal is to achieve no net loss (NNL), and our long-term goal is to achieve net positive impact (NPI) *3 by 2050.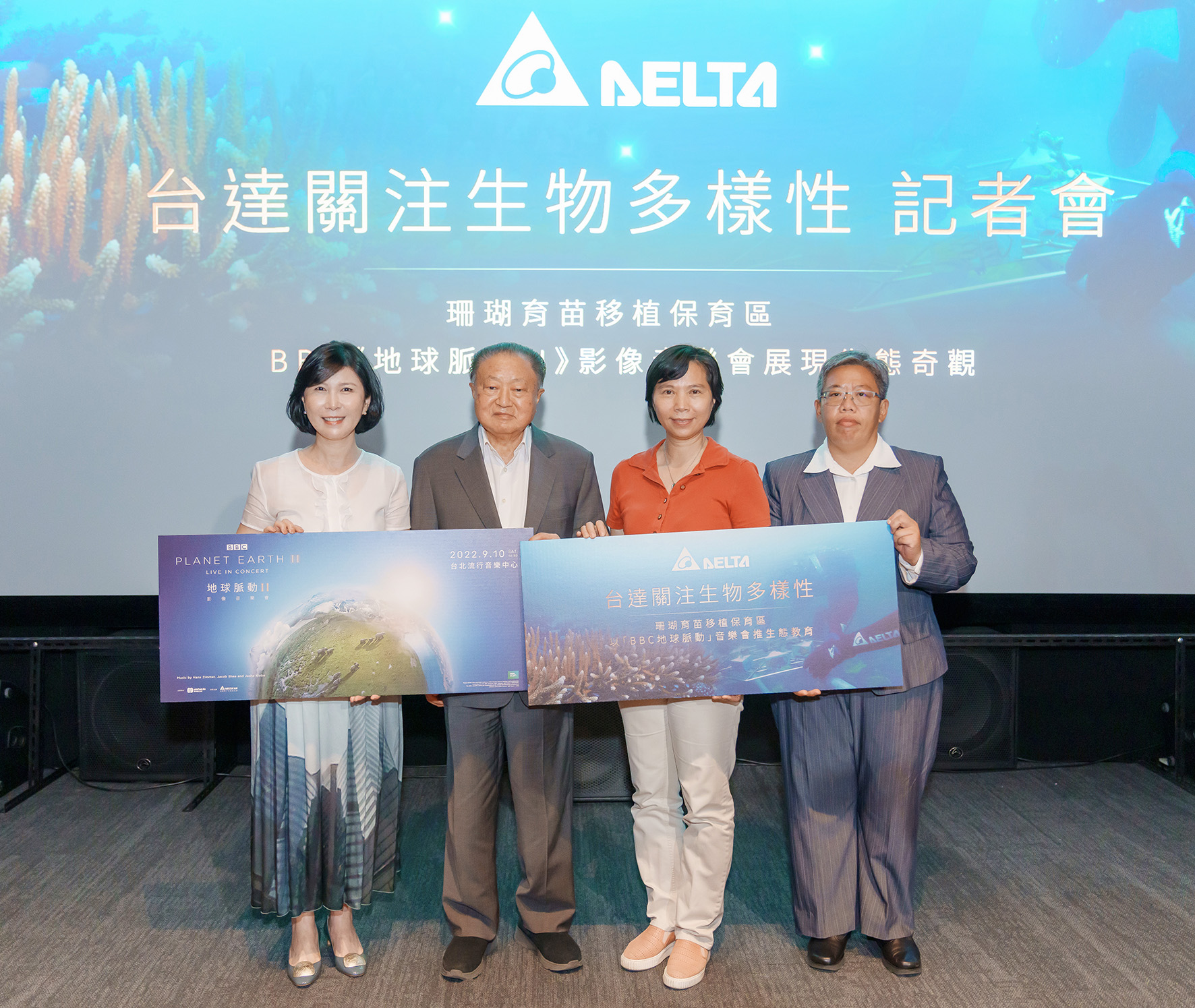 In 2022, Delta completed the first phase of coral restoration, integrating biodiversity into their sustainability strategy.

Cross-departmental Biodiversity Management: TNFD Framework for Natural Risks & Opportunities Delta's biodiversity promotion is overseen by the board of directors, with the Sustainable Development Committee serving as the highest governing body. Various departments within the company participate based on their core business capabilities, working together with upstream value chain partners to protect biodiversity. The Corporate Sustainability Department is responsible for analyzing and evaluating frameworks and approaches for promoting biodiversity and leading internal projects. The Supply Chain ESG Committee leverages its influence on suppliers to understand Delta's dependence on and impact on key natural capital. The Delta Electronics Foundation combines Delta's core technologies to collaborate with external partners in coral restoration. Our goal is to restore over 10,000 coral seedlings by 2025. As the relevance of these issues continues to grow, each department will play different roles in working towards long-term goals.

When promoting and managing biodiversity projects, Delta primarily follows the Task Force on Nature-related Financial Disclosures (TNFD) framework. Starting from the 2021 ESG report, Delta discloses relevant information based on the four key elements of governance, strategy, risk and impact management, and Metrics and targets. The company is committed to studying the LEAP (Locate, Evaluate, Assess, Prepare) assessment process methodology proposed by TNFD to identify the company's reliance on, impact on, risks to, and opportunities for nature.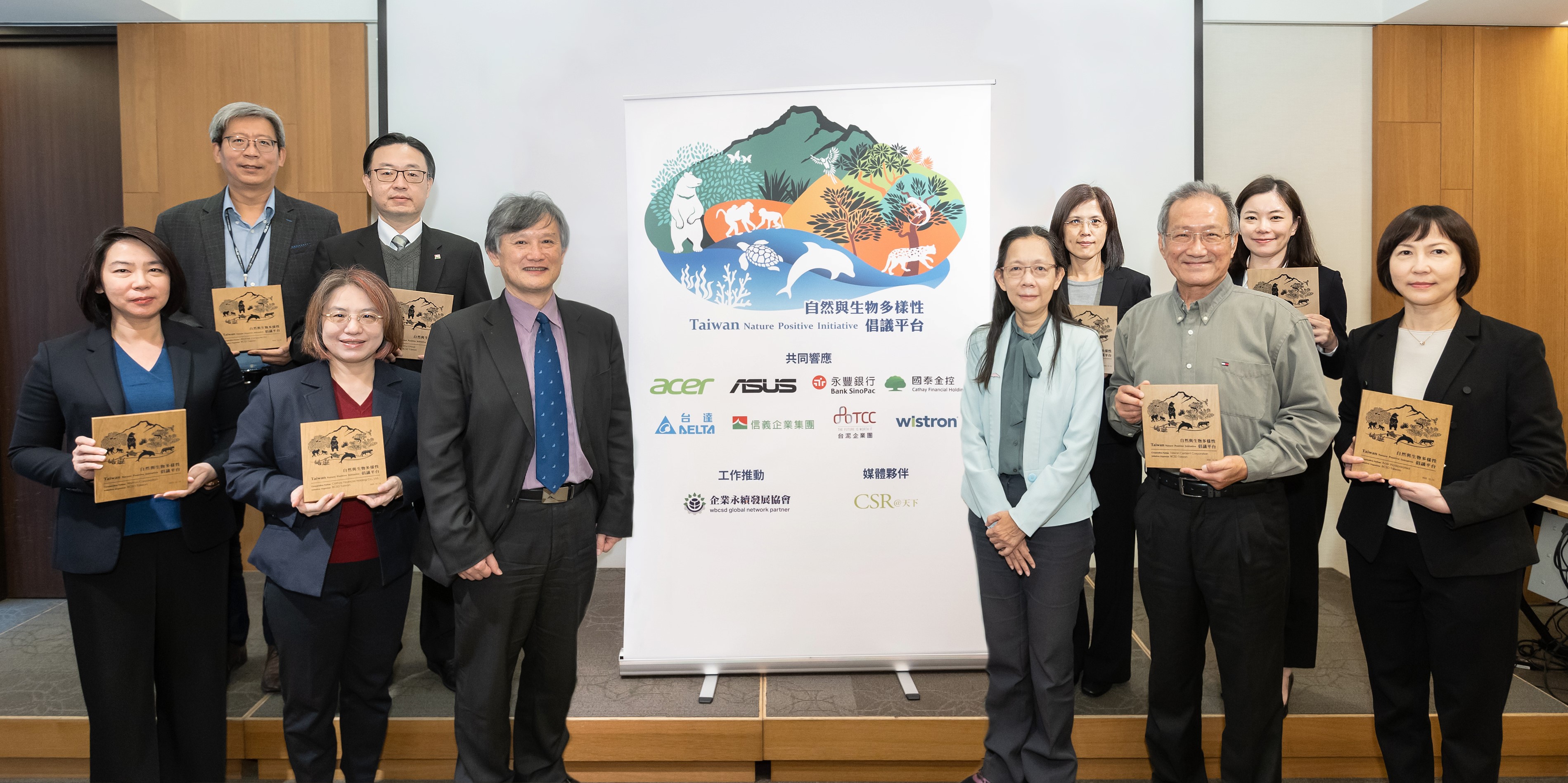 As a founding member of the Taiwan Nature Positive Initiative (TNPI), Delta partners with internal and external resources to promote biodiversity initiatives.

Starting with reducing natural harm, Delta combines partner resources to protect biodiversity To manage risks and impacts on biodiversity, Delta has developed a five-tier approach, including avoidance, minimization, restoration and enhancement, offsetting, and additional conservation actions. Currently, the focus is on "avoidance" and "minimization," such as avoiding impacts on important biodiversity areas when selecting operational sites and establishing supply chains, while adopting green building standards. In the future, Delta will collaborate with experts to assess, research, and develop natural solutions that simultaneously address biodiversity and carbon removal, and explore the feasibility of Nature-based Climate Solutions (NCS) quotas *4.

Internally, Delta organizes biodiversity education and training programs to increase employees' awareness of biodiversity issues and understand the relationship between climate change and biodiversity. Externally, Delta actively aligns with domestic and international initiatives. In 2023, it became a member of the TNFD Forum and a founding member of the Taiwan Nature Positive Initiative (TNPI) *5. By combining internal and external partner resources, we aim to stay informed about international trends and industry dynamics, jointly promote and manage biodiversity, and ensure that every individual and action within the company genuinely contributes to a sustainable natural environment.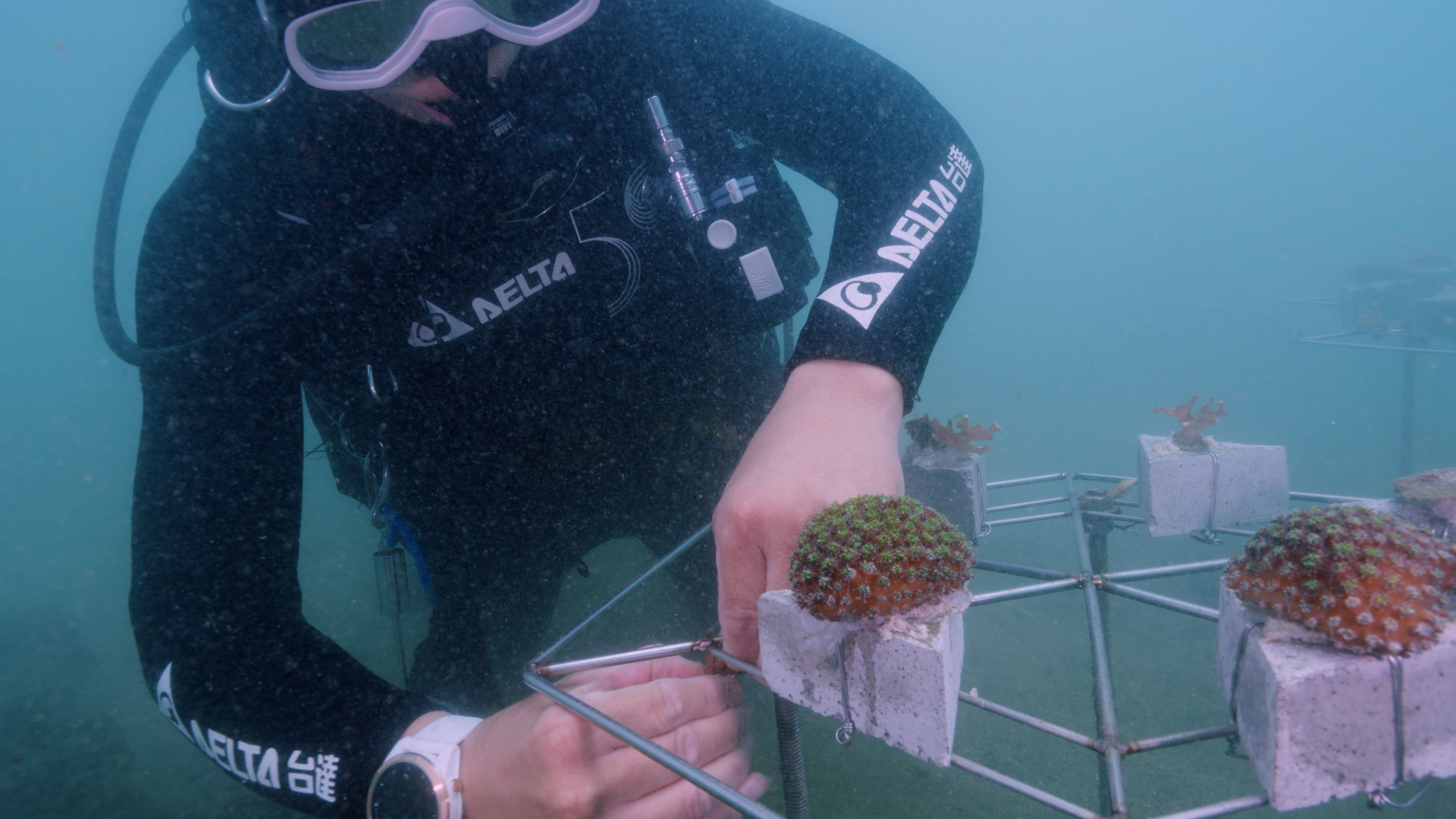 Delta's collaboration with marine conservation teams for coral restoration exemplifies our additional conservation efforts.

Note 1: Biodiversity refers to the variability among living organisms, including terrestrial, marine, and other aquatic ecosystems, and the ecological complexes of which they are part. It encompasses diversity within species, between species, and of ecosystems. Reference: Convention on Biological Diversity.
Note 2: Source: IPBES-IPCC, Biodiversity and Climate Change (2021).
Note 3: No Net Loss (NNL) refers to compensating for the structure and function of ecosystems through various measures to maintain the same ecological value without causing losses to local ecological values. Net Positive Impact (NPI) refers to actions taken to restore ecosystems that offset and exceed the impact of human activities on local biodiversity. Reference: https://portals.iucn.org/library/sites/library/files/documents/2015-003-Summ.pdf
Note 4: NCS quotas refer to preventing natural carbon sink loss or carbon sequestration through Natural Climate Solutions, reducing carbon credits generated from greenhouse gas emissions. Reference: https://www.wbcsd.org/contentwbc/download/15185/214678/1
Note 5: The Taiwan Nature Positive Initiative (TNPI) was launched by the Business Council for Sustainable Development (BCSD) in 2022. It aims to encourage industry action and nurture professionals in nature and biodiversity conservation, increasing transparency in enterprise risk resilience and opportunity management. Reference: BCSD official website: https://bcsd.org.tw/