Organizational growth as the foundation for a talent development strategy To help managers and employees to improve their capabilities and grow together with Delta, the Human Resources Department updated the training and development framework this year based on transformational needs and future trends this year, while jointly implementing this framework with all our operating sites and 12 functional committees around the world.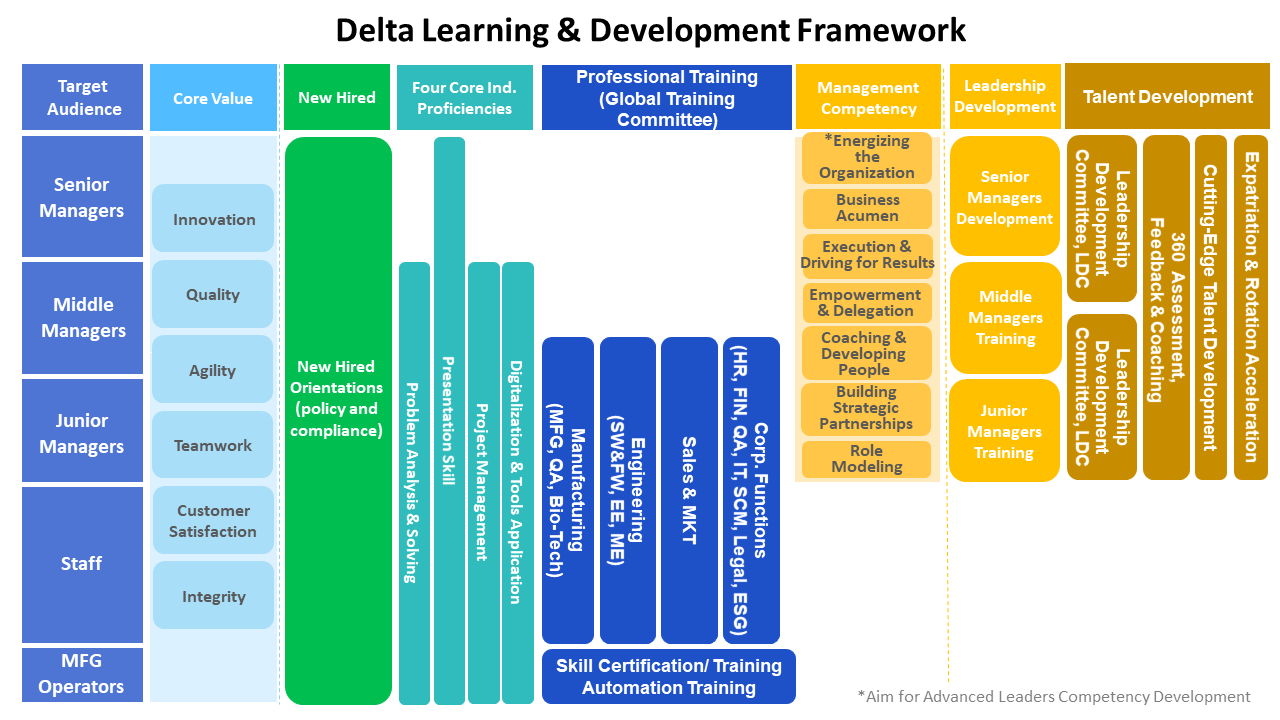 Talent development: Expansion from key talents to new ones
Delta has established the Leadership Development Committee, consisting of top executives, to continuously pay attention to key global talents and accelerate talent mobility and development. In response to Delta's transformation into a solution provider and the increasing demand for future growth opportunities, the Human Resources Department needs more talents to be dedicated to new fields to accelerate this process. Under the instructions given by Mr. Ping Cheng, CEO of Delta, we launched a three-year project on the planning and development of the Accelerate Into Master (AIM) program in 2019 and invested resources in training leaders for new business units.
These two models are Delta's new initiatives for selecting and developing new talents. The Human Resources Department first accurately identifies the qualities, abilities, and experience required of talents, selects suitable talents, and then trains them to develop the competencies needed over the course of the four major stages of identification, assessment, development, and continuous optimization.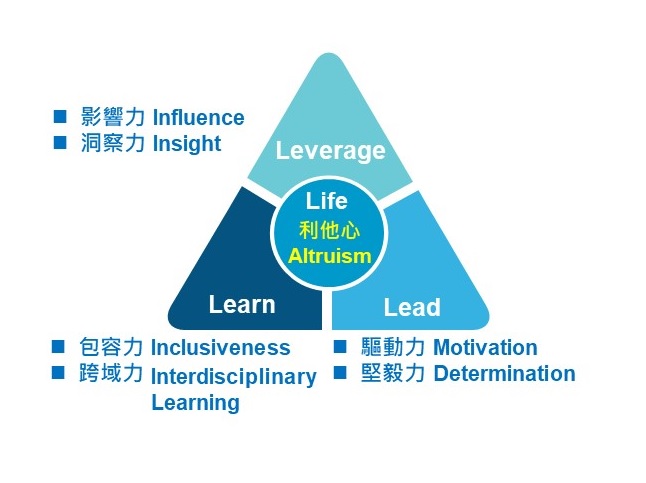 AIM talents for the solution business When selecting talents for the solution business, we impose requirements for job levels, performance, and experience. As the challenges to be met in the solution business are more daunting than the previous business models we adopted, we attach importance to personality traits and request each business group and regional business unit to adopt potential assessment criteria (altruism, influence, insight, ambition, perseverance, tolerance, and interdisciplinary skills) set out by Delta as per transformational needs, along with other applicable criteria, to select talents. We engaged in intensive interviews with top executives to understand the definition, business scope, and details of the solution business in different units and interviewed experienced executives with excellent performance in the solution business, while referring to well-known consultancies' suggestions and learning from other top companies to formulate the competencies required by solution talents.
In the solution business, we need to interact with clients face to face to understand their needs or even exceed their expectations, and proactively provide suitable proposals. As the situation is more complex and challenging than before, talents in this field should have a certain degree of understanding of products in this industry and those jointly developed by different business groups, as well as to spend time surveying the market and clients, effectively connect internal and external resources, and have excellent communication skills, to put forth effective solutions that cater to clients' needs. Therefore, these qualities and requirements are also included in relevant competencies. We regularly perform pre- and post-tests and customize development plans to enhance talents' relevant capabilities. During the three-year period, the Human Resources Department offered a series of training sessions on solution sales skills, performed personality tests and provided feedback, participated in relevant projects, and designated managers as mentors. During this process, it continued to collect feedback and made adjustments and improvements, successfully assisting nearly half of the talents in achieving the standard, being transferred to solution-related units, or getting promoted at their original solution units.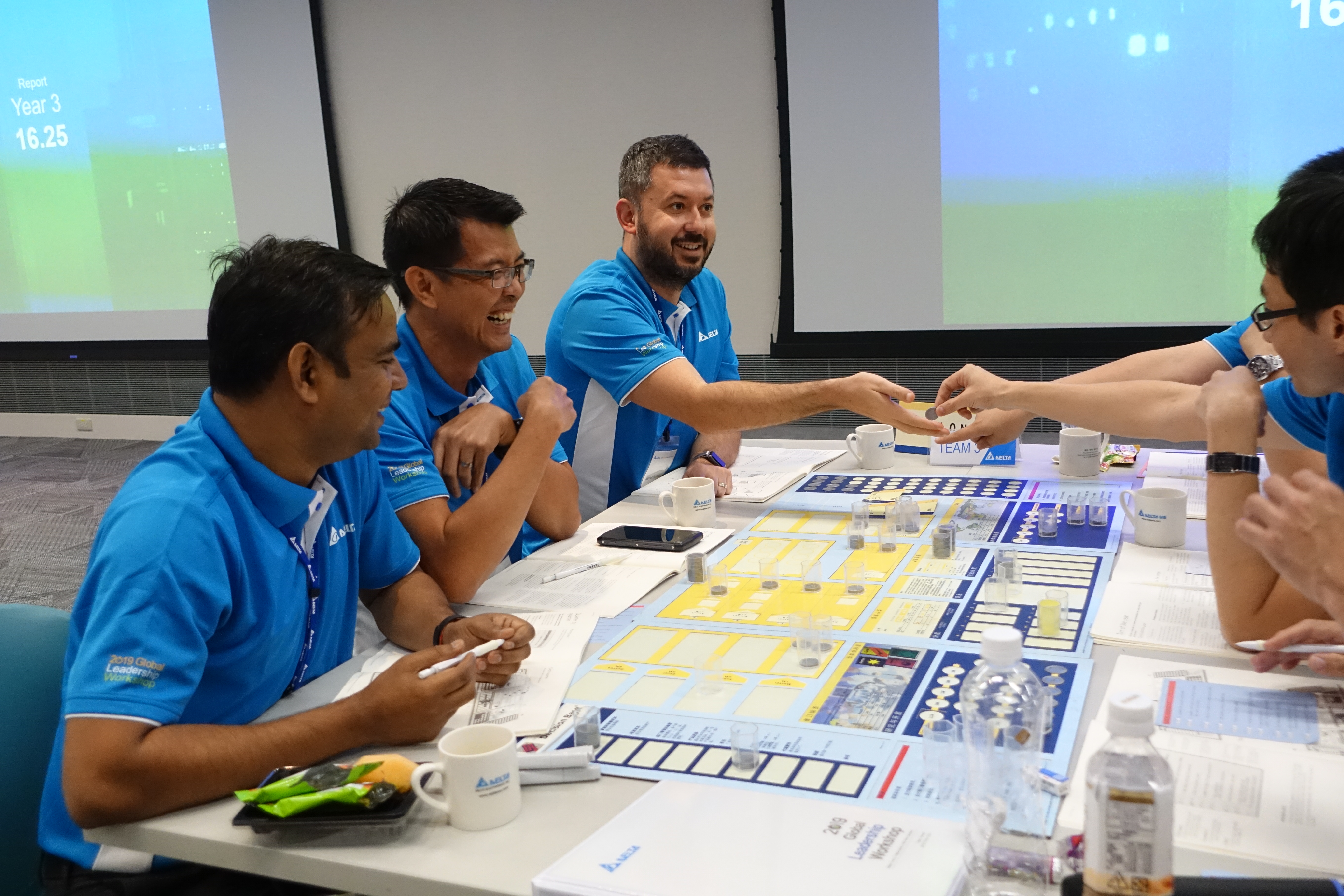 In our global leadership workshop, we have adopted the business simulation training model used by a well-known Nordic business management company.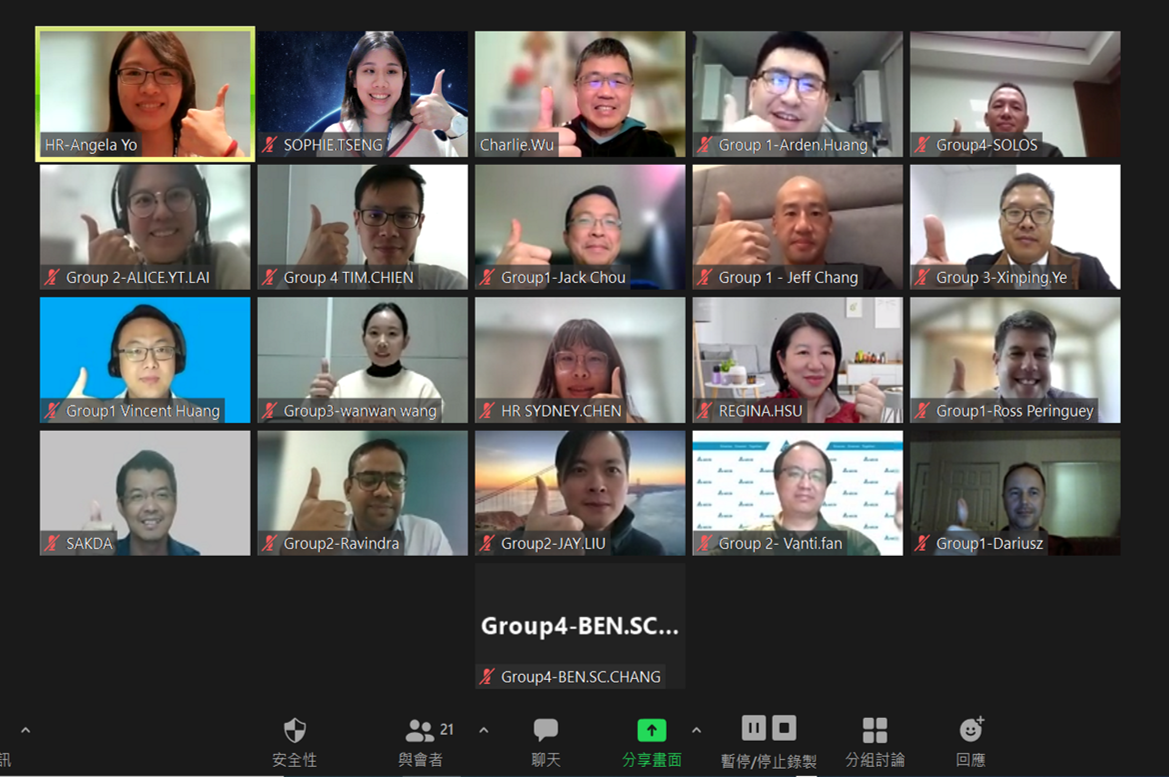 Senior solution sales, finance, and procurement colleagues are invited to share the following in the online forum: how to work with people in different business groups, regions, and functional departments to create win-win outcomes.
New business department (NBD) pioneer leadership development program As Delta's NBD employees need to have the flexibility to cope with high uncertainty along with enthusiasm and ideas for the development of new business departments in the future, while also being proactive, pragmatic, and persistent to achieve goals, we held a selection within the company based on the experience with the AIM program in the talent selection stage rather than having business units nominate candidates as we used to, aiming to find talents with great ambition and potential.
As the participants needed to take care of their existing work during the training process, we were worried that there might not be many applicants. Fortunately, through a letter written by CEO Ping Cheng; an online forum, at which the NBD head, CEO Ping Cheng, and COO Simon Chang shared their views; and promotional efforts by various units, many employees had their interest ignited. More than 200 employees signed up, and through a variety of evaluation methods and a third-party professional talent assessment (Gallup assessment), we selected the final participants for the three-year development program.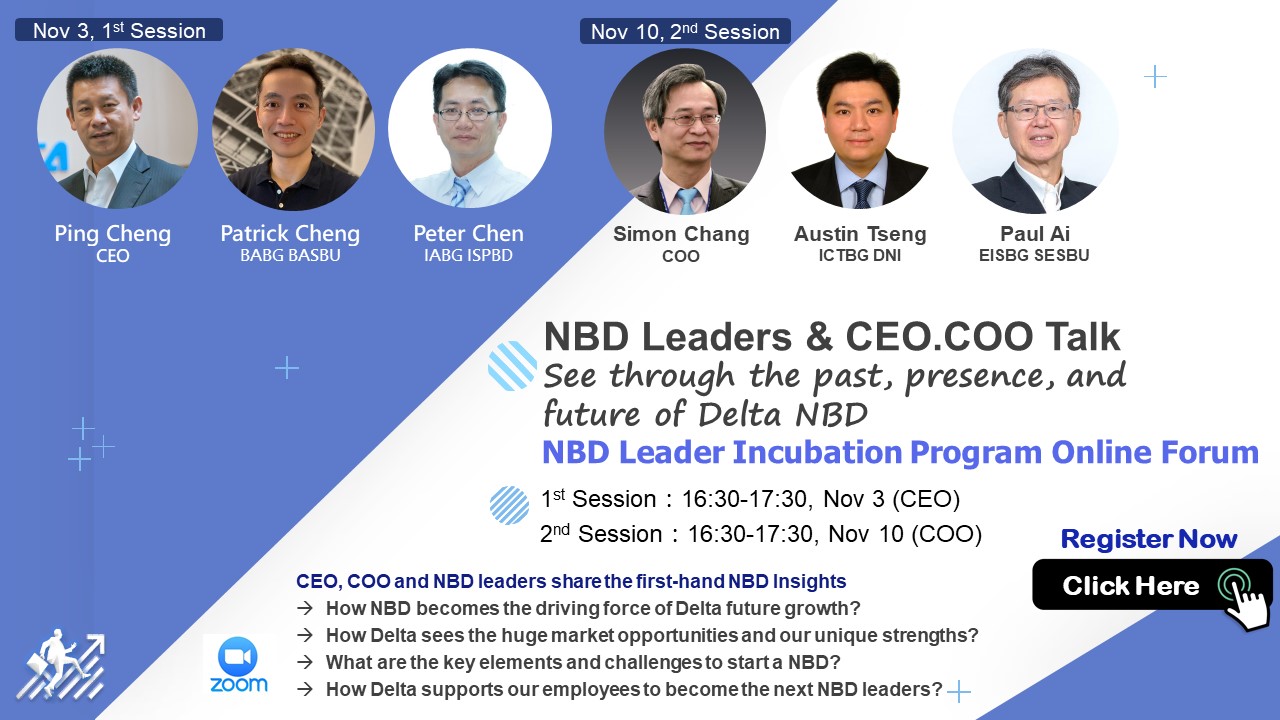 Promotional poster for a dialog between the Promotional poster for a dialog between the NBD head, CEO, and COO
Due to the pandemic, the NBD talents were mostly trained online during 2022. First, they strengthened their self-awareness and learned more about how to enhance their strengths and improve their weaknesses at the Gallup report analysis online workshop. In this workshop, several managerial trainees shared their experiences in and thoughts on how to lead a team, and participants also learned how to adjust their mindset more consciously to lead a team forward more effectively.
In addition, through a series of courses, the trainees gained a better understanding of the company's NBD strategy and business activities, as well as how to make plans and implement them. In 2023, we will place the focus on enabling the trainees to learn by participating in practical projects, thereby accelerating their job rotation at NBD-related units. We will also particularly look to strengthen the leadership skills of participants who have served as leaders in NBD in the future.
Broaden talents' experience through job rotation and expatriation and provide them with more career choices As Delta has a variety of business divisions all over the world, we need competent talents to expand the business, and we also provide sufficient development opportunities to employees who are willing to join us. In respect of cultivating talents, we enhance their professional competence to help them get promoted, as well as providing them with opportunities for job rotation and expatriation to pave the way for a broader career path in the future. In recent years, Delta's top executives in various regions have demonstrated excellent performance in their own fields and developed a global perspective through their experience working in different regions. This year, we will launch a new job rotation and expatriation policy in alignment with senior executives' expectations, along with our promotion regulations, to facilitate the creation of a culture of talent mobility within the company and diversify career development paths.