Extract and concentrate into three brand value propositions for transformation

The HR Division collaborates with BMD, and invited Ms. Shan-Shan Guo, Delta's Chief Brand Officer, to host an online branding course.
The core of a brand requires not only a vision but a clear value proposition, to clearly outline the benefits that the brand provides to customers and the public. Last year, after interviews with internal colleagues, executives, and external customers, we start with our brand slogan, Smarter. Greener. Together., to elaborate the unique expertise of Delta's technology and capabilities. Then we extract and concentrate into three brand value propositions: Intelligent, Sustainable, and Connecting. The new brand value propositions have not only retained being efficient and reliable of an industrial brand that Delta has developed since its Brand Inauguration Year, but also upgrade to cover more aspects and capabilities.
We take Intelligent, Sustainable, and Connecting, as our brand value proposition, representing the benefits and unique advantages we can create for our customers, partners, users, and society. "Intelligent" means that we integrate smart industrial technology and human intelligence to provide IoT-based solutions to help our customers to achieve better operations. "Sustainable" is Delta's core competence. We help customers enhancing resource management with reliable energy-saving technology, becoming partner in their pursue of sustainability. "Connecting" means that Delta cares and values customer needs, bringing together an ecosystem with more business value through cross-field collaboration.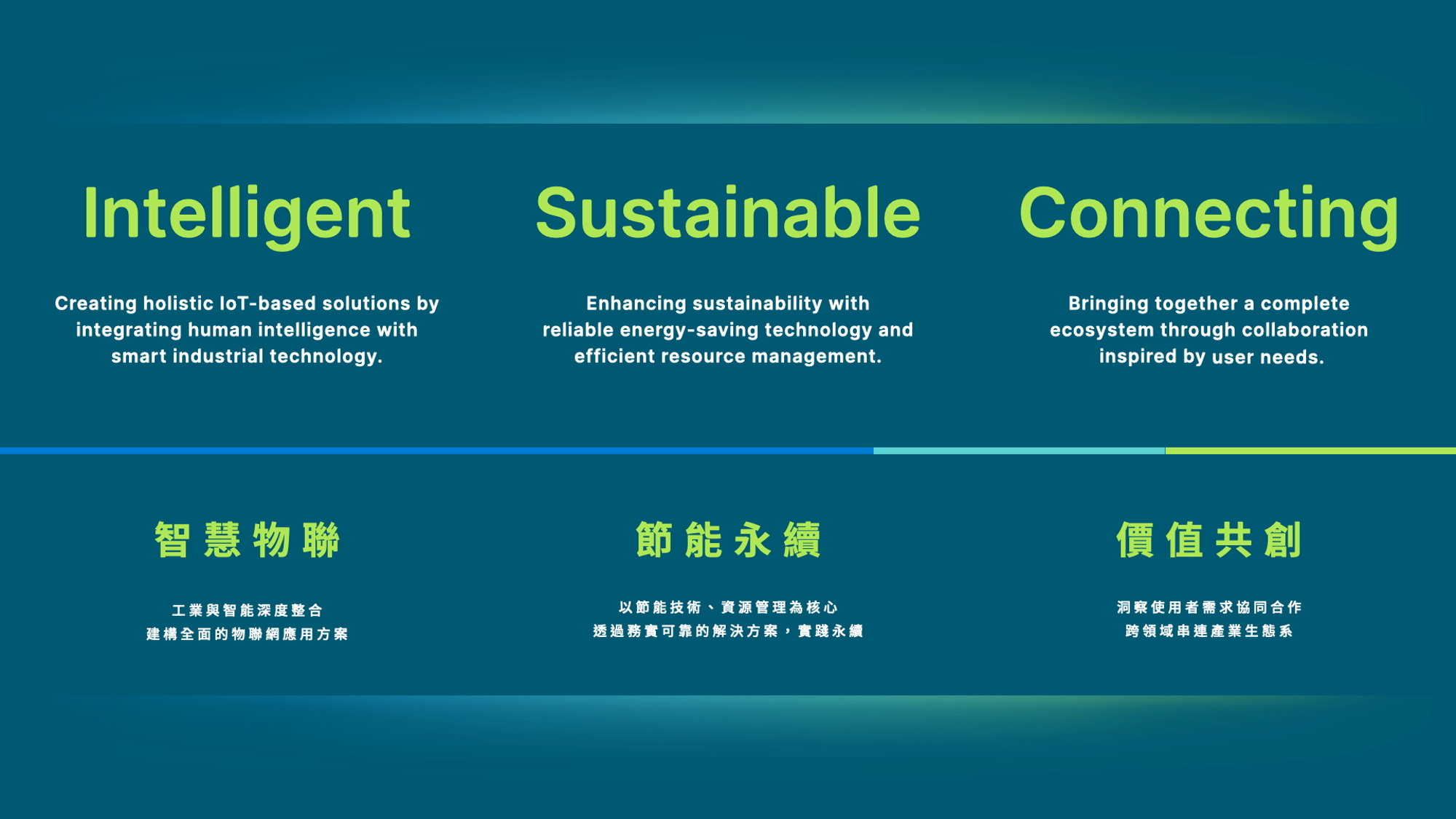 Delta takes Intelligent, Sustainable, and Connecting, as the brand value proposition.
The combination of two-dimensional and three-dimensional elements accentuates the brand identity to allow the public to know Delta better The branding course has not only enhanced our employees' understanding of the new corporate identity elements released last year—Progression Bar and Energy Loop—but also extended the identity elements from graphic design to three-dimensional presentation, defining the guidelines for the application of the new identity system in booth designs. Booth designs are also important presentations of Delta's corporate identity. Combinations of bar, loop, cube, and frame elements lead to diversity, highlighting our brand identity in tradeshows. Energy loop is the primary visual element of a booth, to deliver our brand messages; progression bar is the supporting element to display titles; cube and frame are the major style elements of our booth in tradeshows. In response to the attributes of different tradeshows, BMD also put forth design suggestions for campus recruitment events, industrial and integrated tradeshows. The new corporate identity has become an attractive image, inviting everyone to learn more about Delta. In the future, the HR Division will continue to work with BMD, particularly in the major annual campus recruitment expos, to allow students to better understand Delta's business philosophy.

BMD developed designs for industrial and integrated tradeshows to reinforce Delta's brand image.
Internal and external communication to take the next step for the Delta brand In 2023, we will start internal communication and external promotion to let more people understand Delta's value proposition. Through brand campaigns, we will convey our spirit, featuring Intelligent, Sustainable, and Connecting, in the form of visual designs and videos, allowing more people to understand Delta's value proposition in-depth.To embrace the next 50 years, Delta looks forward to working with all our employees around the world to expand into both an industrial and commercial brand and continue to exert our influence. We sincerely invite you to gain a deeper understanding of Delta's brand development through Delta Academy's online course and become the best brand ambassadors of Delta together.