R&D Experience Camp, inviting students to learn the good qualities of Delta
China team of Delta has been working on campus recruitment for a long time and has spared no effort. In the summer of 2021, the Shanghai R&D summer camp attracted 100 students to sign up. Delta selected nearly 40 masters students from 11 top universities, including Tsinghua University, Zhejiang University, Shanghai Jiaotong University, and Harbin Institute of Technology, to experience Delta's working environment and company culture in the field, according to those students' majors and research directions.
The three-day and two-night experience camp activities include corporate celebrity exchanges, technology sharing, acquaintance with Delta, interview and resume writing skills and Design Thinking courses, in a joyful and lively form to drive students to actively understand Delta, and actually feel how Delta practices their business goal of "Smarter, Greener, Together". Through this activity, students were given a clear direction for their future career development and invited to join Delta after graduation to develop their future together in a sustainable way.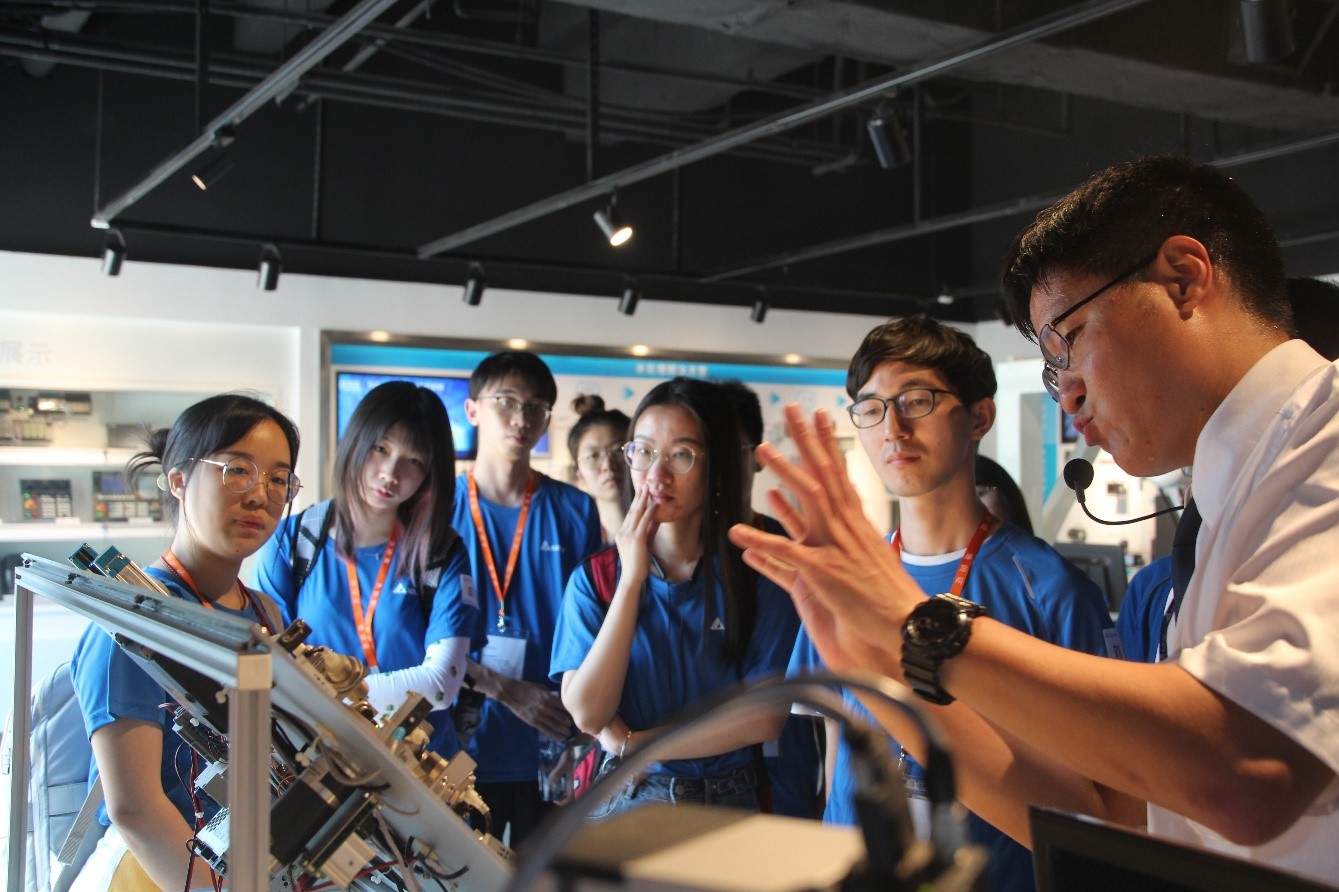 Students from Shanghai R&D Experience Camp observing Delta's product technology
Fearless of the impact of the pandemic, integrating online and offline activities to create voice
This year in Thailand, the form of recruitment in several universities has moved to online video conferencing applications due to the considerations of local pandemic prevention. The content includes the introduction of full-time jobs and internship vacancies as well as the company profile. During the online meeting, the students reacted actively and were enthusiastic to apply. In India, Delta enthusiastically welcomed 70 interns from the top 100 universities of the country, with senior executives present, and explained the historical evolution and future prospects of Delta thoroughly. The manufacturing supervisor even took the students to visit the production line in the factory and explained the different stages of the product process and technology application personally, so the students could better understand the future scope of the work and its details.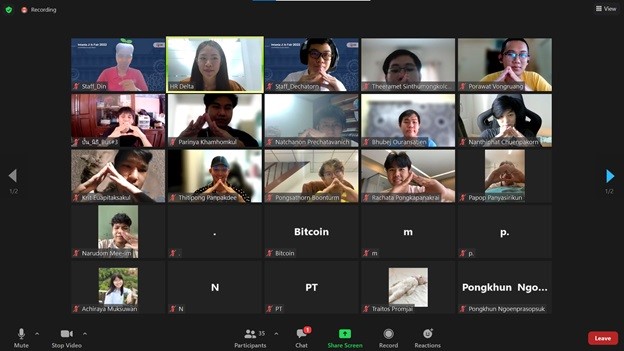 Students participate at the Thailand Online Talent Recruitment Seminar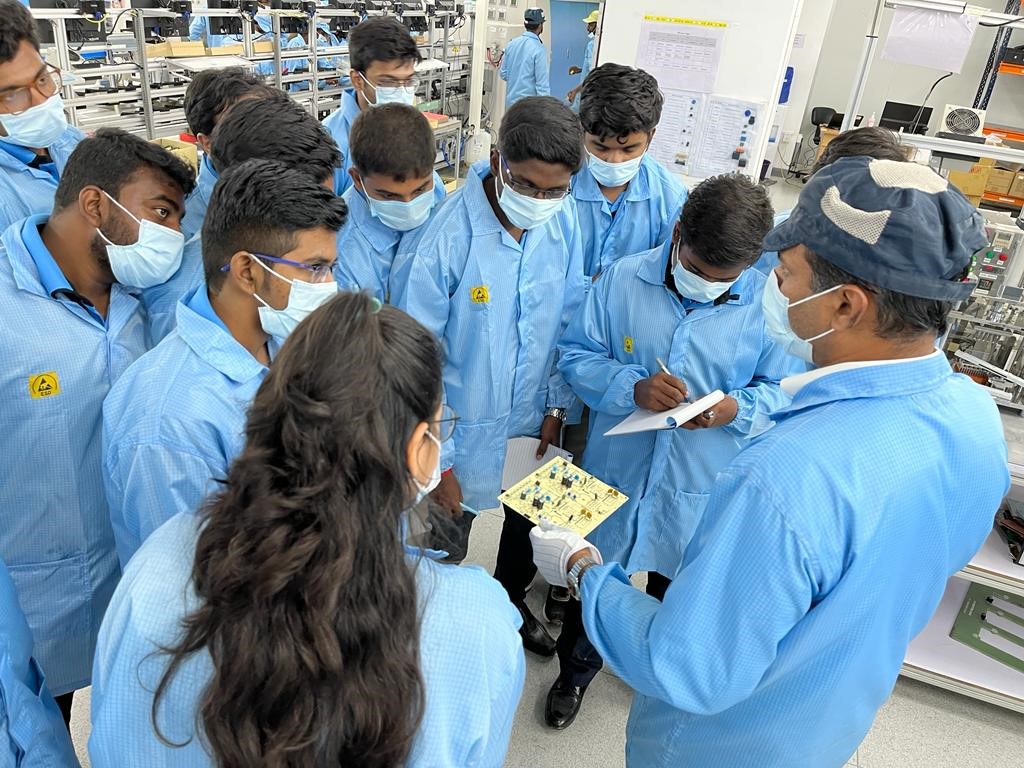 Indian intern visits Delta's production line
In response to the gradual slowdown of the pandemic in Taiwan, the recruiting team has made an all-out effort this year, planning a number of physical activities and pioneering work to create massive exposure and strived to make a large number of talented students join Delta ardently.
(I) For the first time, it launched a large-scale employer brand image advertisement in a hotspot where a lot of high-tech talents gather.
In conjunction with the post-new year job change boom, a full-size employer brand advertisement was placed at the main entrances and exits of high-speed rail stations in Taoyuan and Hsinchu from February to March to create a strong voice and enhance brand awareness.
(II) Senior executives participated personally in a university jobs fair, making the brand image more distinctive
Delta, together with its subsidiaries Cyntec Co., and Vivotek Inc, exhibited at Taiwan's major university jobs fair in March. At the same time, it was the first time that Delta was invited by National Taiwan University, Taiwan's top university, to be the only representative in the industry at the university's jobs fair. Mr. Yancey Hai, Chairman of Delta, gave a speech at the opening ceremony to encourage the students and follow his career experience. The management team's support not only attracts the attention of visitors and media, but also deeply roots Delta's employer brand image.
(III) On-campus interaction with Delta supervisors
At the recruitment event on campus, Delta invited the seniors who graduated from the university to interact with the students and introduce the actual content of their jobs. In addition, the Human Resources Division interacted with young students through Delta's fan page, Delta Career, whether it was a live streaming event or sharing tips on how to win a job from a recruiting supervisor, both created an encouraging job-hunting experience for the students.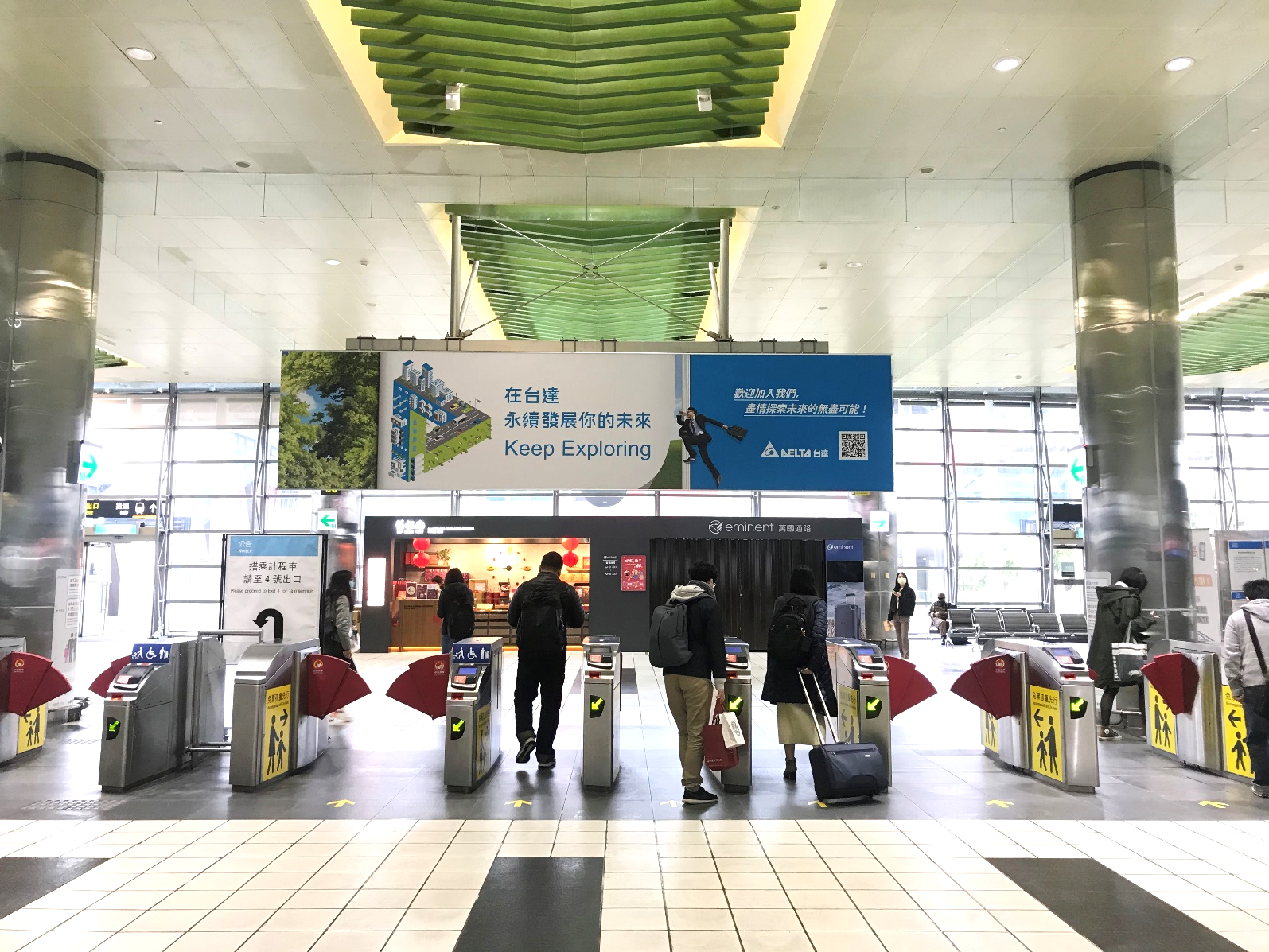 Delta's employer brand image features at the high-speed rail stations in high-tech towns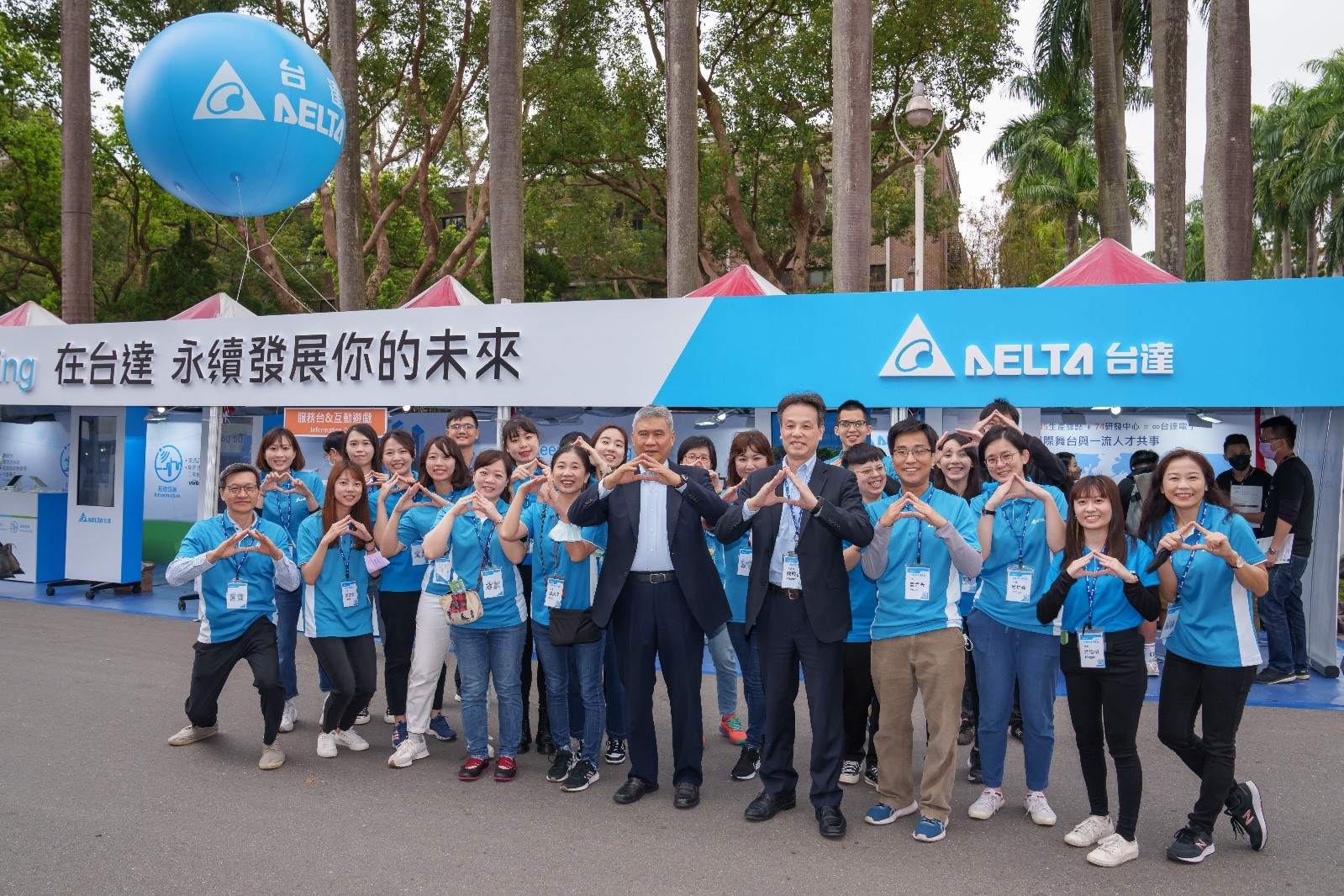 Chairman Yancey Hai (on the right) and Senior Human Resources Officer Mr. Chen participated personally at the National Taiwan University's job fair
Cross-departmental collaboration to build a consistent brand image
Building an employer brand wouldn't succeed at the first attempt, but long-term cooperation between the relevant departments of the company would. In order to achieve a mutually beneficial outcome. Last year, the Brand Management Division assisted the Human Resources Division in launching a new global recruitment campaign, "Keep Exploring at Delta, developing your future sustainably" to convey that Delta cares about the sustainable development of its employees' careers while practicing sustainability with energy-saving technologies. Additionally, it encourages cross-department and cross-unit learning and cooperation, and provides opportunities for job rotation or expatriation.
Lately in Taiwan, Delta's Joint Research and Development Center at NTU has just been completed. The space planning was done by a three-party team of Brand Management Division, Delta Research Institute and Human Resources Division. The whole design applies elements of Delta's new identity. The corridor space and walls are based on Delta blue, which represents energy efficiency. Furthermore, it incorporates aqua blue that symbolizes intelligence, and grass green, which symbolizes green energy in order to create a fresh and bright environment for research and development that students will aspire to.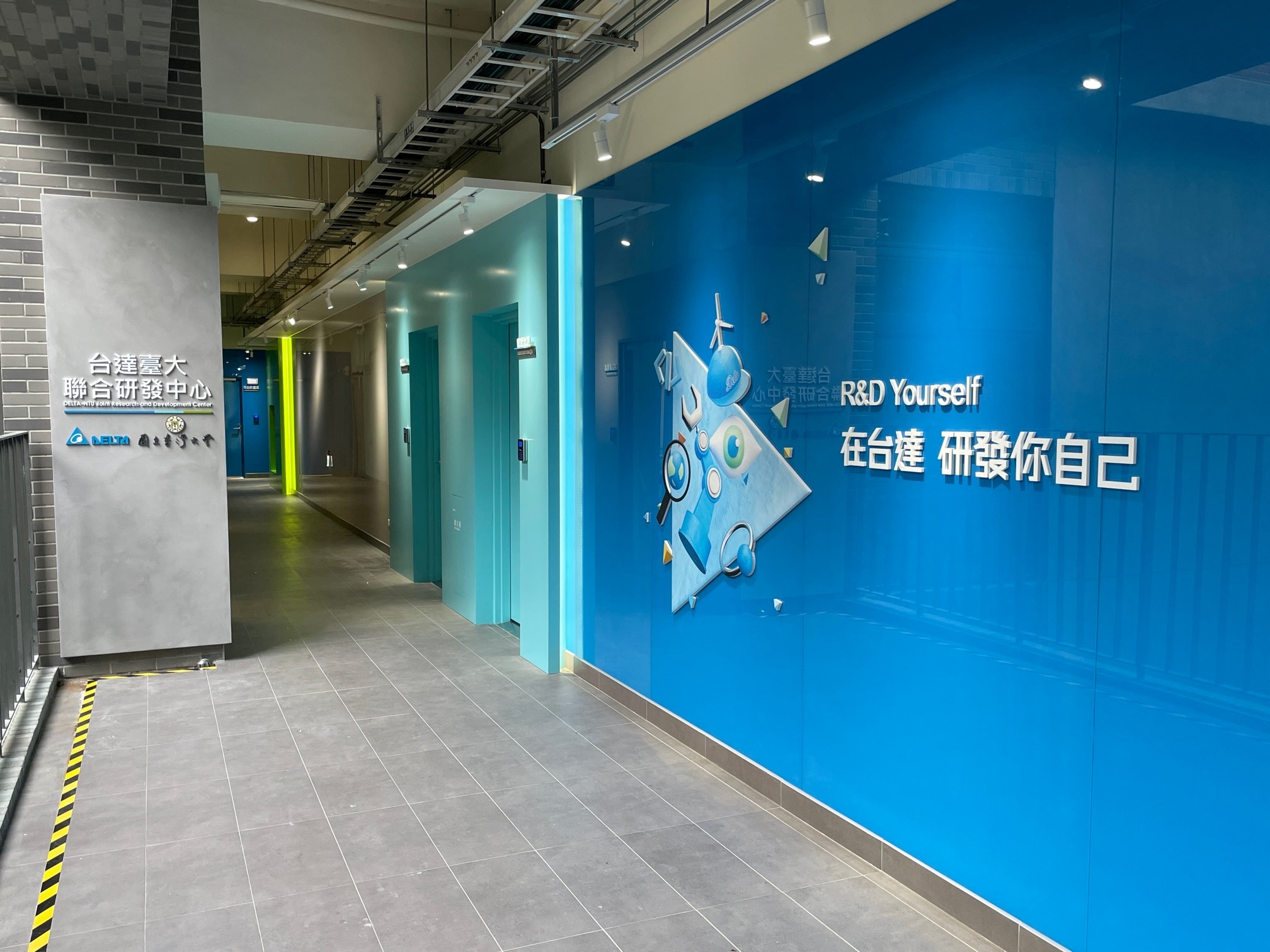 Delta's recently-completed Joint R&D Center at NTU applies Delta's new corporate identity
What's more, through the professional media promotion of the Corporate Information Office, the exposure of Delta continues to rise. Delta's ranking climbed all the way from 56th in 2017 to 11th in 2021 based on the survey "Most Desired Companies for New Generations" performed by the most authoritative employer brand, Cheers Magazine. The industry also praises the high employee stability of Delta as a result of its strong employer brand, which is concrete proof of Delta's efforts in building a happy workplace and promoting talent magnetism. In the future, HRD will continuously fight for establishing a solid employer brand and beckon the best talents from all over the world!