Completely new identification elements -- Progression Bar & Energy Loop
Delta's new corporate identity consists of two main visual elements - the "Progression Bar" and the "Energy Loop". The "Progression Bar" symbolizes the continuous evolutionary drive of Delta. With Delta blue as a foundation, combining the light blue and natural green which represent intelligence to show their progression to a commercial brand from an industrial brand, and building a more intelligent and comfortable color system. The "Energy Loop" is the solution for sustainable innovation, and is derived from the Progression Bar, which transforms Delta's innovative technologies in power electronics into integrated solutions that provide energy-efficient and clean energy for industrial and lifestyle applications as well as symbolize Delta's sustainable cooperate core value, coexisting with the environment and creating beauty with action.

"Progression Bar" and "Energy Loop" that highlight Delta's new brand identity.
In addition to the new visual elements, Delta has also developed its own corporate font, "Delta Sans". The contained English font is designed with soft, natural strokes, which feel humanistic when reading and provide users with a pleasurable experience. Additionally, the rounded curvature of the letters and some lowercase characters are supplemented with beveled lines that echo the design elements of Delta's logo, expressing a consistent brand image and unique recognition at the same time. Delta Sans will be used as an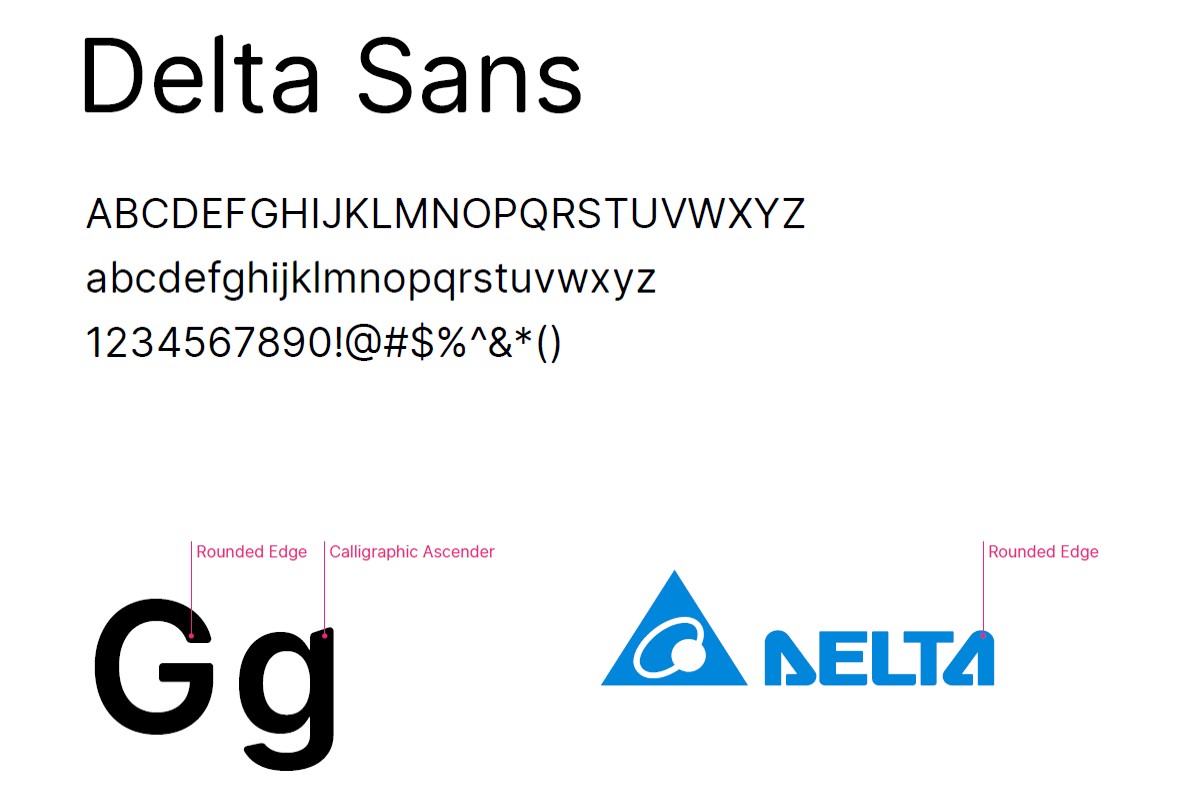 Delta's new corporate font, Delta Sans.
"Enterprise Identification System Specification" officially released
Since the end of last year, the Brand Management Department has been working with the marketing teams of different regions and business units to review the use of the new identity elements and develop appropriate usage standards together. Meanwhile, they introduced the new corporate identity to their management team and nearly 20 executives from each region and business unit, and received positive feedback from the executives, who both affirmed that the design elements were new and refreshing. They also felt that it was particularly meaningful to introduce the new identity to the outside world at this point of Delta's transformation. Recently, the Brand Management Division released a new "Corporate Identity System ", which covers how the new visual elements can be applied to various external materials, such as marketing collateral, business cards, identification cards, PowerPoint presentations, advertisements, website design, and space usage. We will continue to work with our marketing and design colleagues to make the brand presentation of Delta more influential.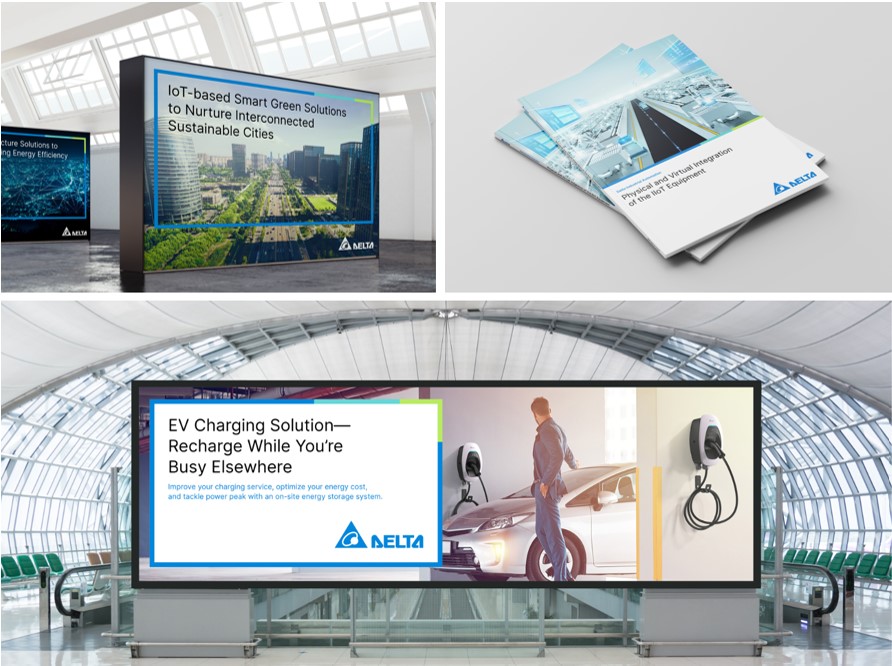 Various applications of new corporate identity
Internal and external communication to make branding project more precise
In the future, the promotion of Delta's brand upgrade will be pushed forward through a win-win plan of internal and external communication. Internally, the Brand Management Division will cooperate with the Human Resources Division to organize physical and online brand training courses to introduce Delta's brand development history, brand positioning, new corporate identity and business scope, and ESG sustainable core values, so that every colleague can better understand the connection between Delta's business goals and business in general to gather a consensus and integrate into the DNA the company, and then transform into Delta's best brand spokesperson. Externally, with the form of digital communication, using a website and a video to strengthen the concept of new brand identity.
Delta's New Brand Identity
Delta brand will continue to strengthen and flourish. We look forward to working with colleagues and partners around the world to further advance Delta brand and lead it to a new level of excellence.