Establish direction, build consensus and strengthen capabilities
"Solution" is a familiar term to Delta, where the devil of actual implementation lies in the details of a brand-new business model where required talent, organizational form and work mode differ vastly from the existing ODM business. In the face of myriad of transformation challenges, how can DSO facilitate the development of industry solution packs within less than a year of its establishment? "First of all, we must establish strategic intent," Foster shared with fervor and assurance, "in order to incorporate the intention into the business strategic transformation agenda, the second step is to change the organization. We are very grateful to Mr. Ping Cheng's support in the establishment of a dedicated Solution Organization in each business unit. What follows next would be the implementation and optimization of processes, platforms and tools."
With clear goals and methods, the solution business is gradually on track. Currently, DSO has collaborated with BABG, EISBG, North American and European teams to plan and develop solution packs in response to market demand. Recalling the early days of the initiative, Foster made no bones that the biggest challenge was to build internal consensus. "Know what and know why are important in order to identify common goals and move towards a solution-based business." Taking the collaboration with BABG as an example, Foster and the DSO team went to Delta Controls, a Delta Group Company in North America, to focus on each other's understanding of Solution Business, gain a deeper insight of the local market demand, and jointly defined the solution portfolio required by commercial buildings. They also reached a consensus on the future development roadmap.
How can DSO quickly deploy team resources and leverage immediate capabilities given Delta's diverse business scope and faced with different industry sectors and regional markets? Foster candidly shared, "We have established a talent exchange mechanism to transfer experienced colleagues from business units to DSO, putting professional knowledge in products and technology on the table while learning how to plan and develop solutions. These talents then return to business units to continuously make impact. In addition to internal mobility opportunities, DSO will also relentlessly attract industry professionals, bringing in the experience of world-class leading enterprises in solution business development so as to prepare for Delta's next growth momentum.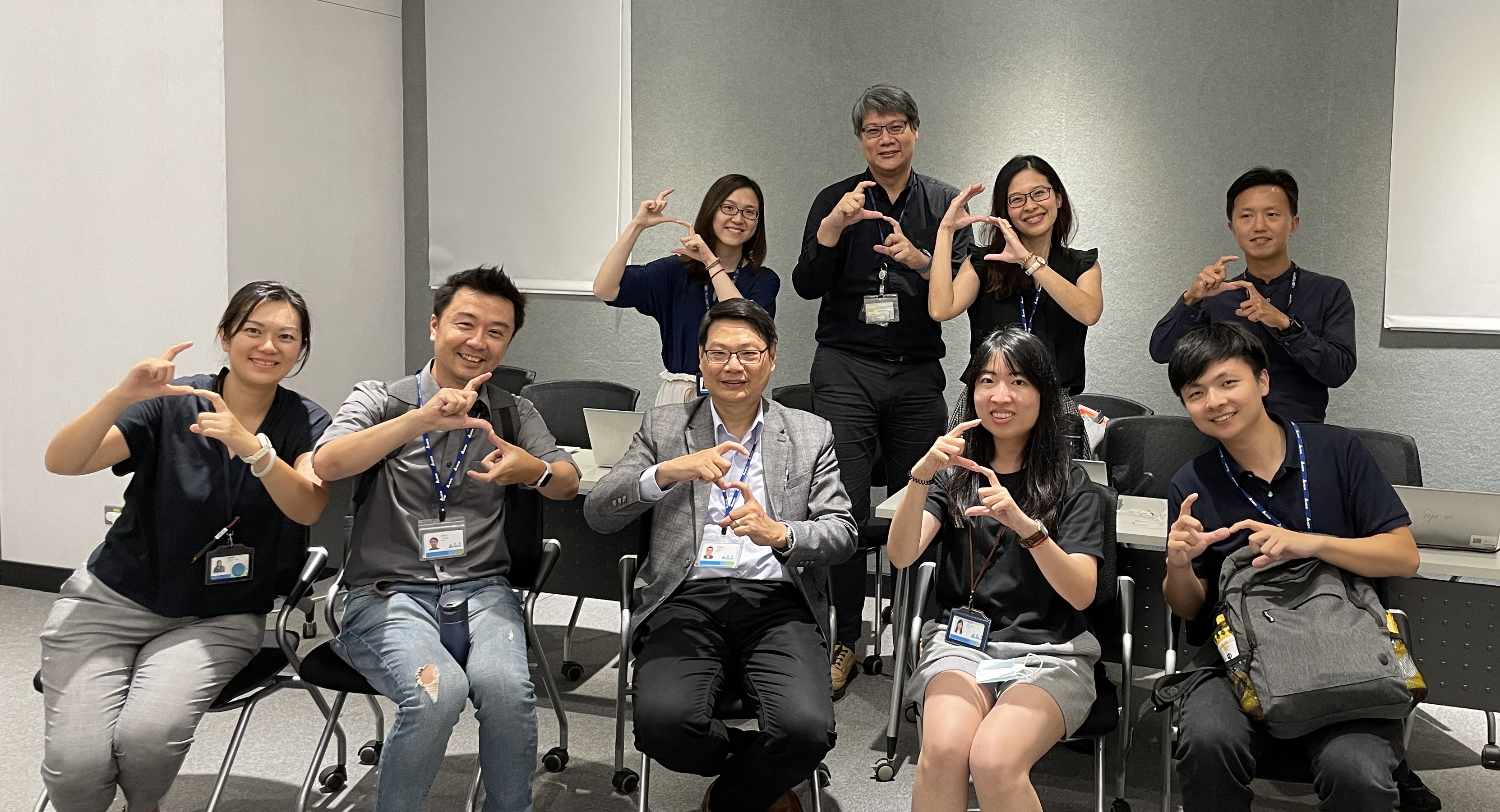 Foster (center) and the DSO team
Sharing milestones achieved at Solution Business Workshop (SBW) and creating a solution expert brand
This July, DSO held the second SBW to share milestone achievements with various business units and arranged consultants to share practical experience of multinational companies such as IBM, Siemens, and Tesla in the solution business with the aim of introducing new perspectives to colleagues and spur development through the learning. Foster admitted frankly that Delta's definition of solution business was vague in the past, "The major achievement of this workshop is to create a common language, and everyone can finally work on goals setting together."
Seizing the rare chance where everyone is gathered together, DSO deep dived into the Solution Business Management Framework for the solution business. This framework provides a clear approach from strategy formulation, market selection, product portfolio, solution development to Go-to-Market to enable various units drive and manage the solution business more pragmatically and steadily. What's noteworthy is that during this SBW, a complete set of supporting measures for committing to the solution business, including KPI setting, resource injection, talent acquisition, competency development plan, etc. were proposed. Moving forward, SBWs will be planned twice a year to increase experience sharing and ideas exchange.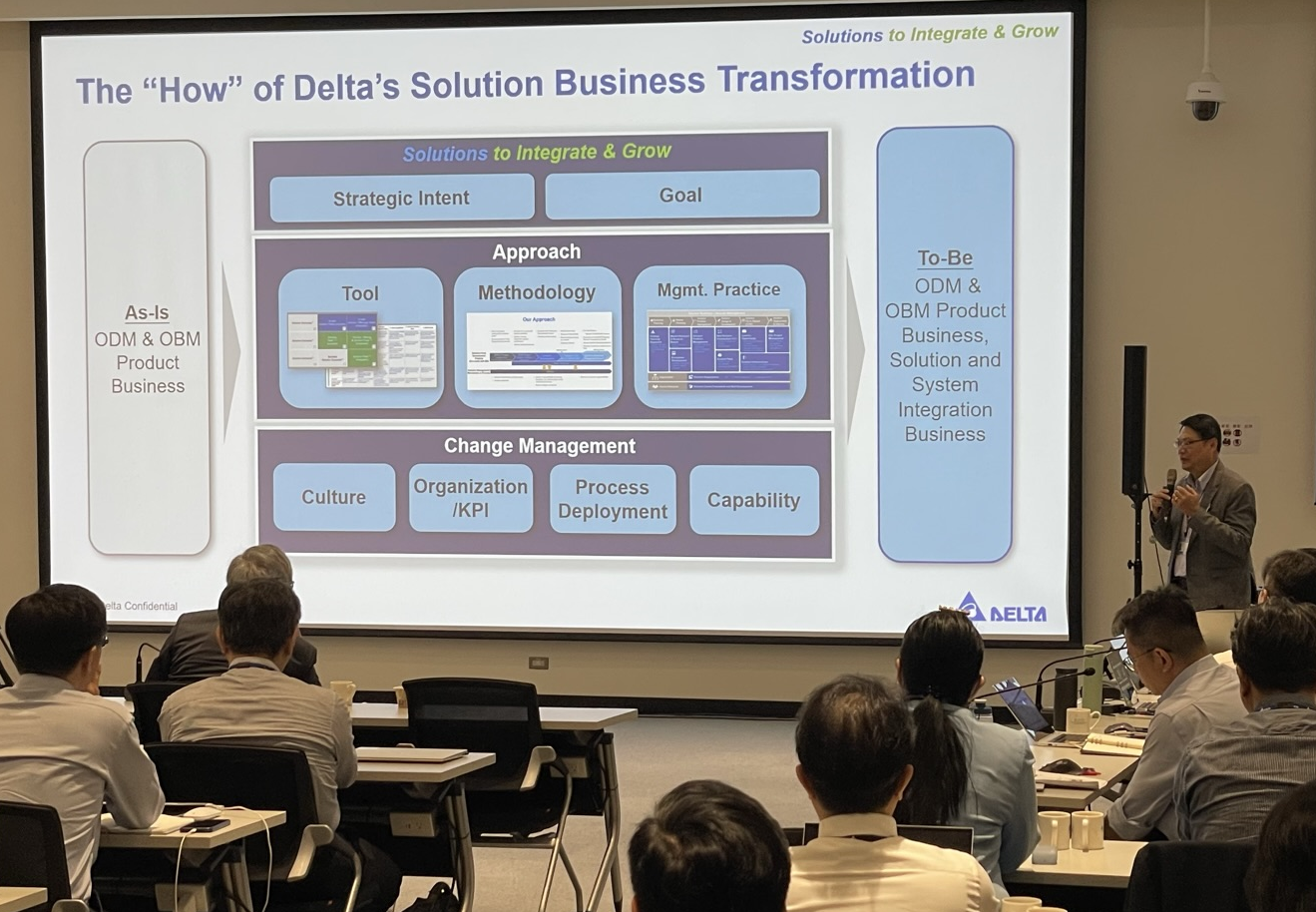 2023 Solution Business Workshop with Foster (right) explaining how to bring about Solution Business transformation
With a clear management framework and development mechanism, Foster further outlined the short-, medium- and long-term goals of DSO. On the top priority is to build a "central kitchen" - the Solution Development Team (SDT) with four business units (BABG, EISBG, IABG, ICTBG) that have been trailblazers to entrench in the solution business to develop a package solution that can meet both market needs and be customized based on local conditions. Foster hopes to spur cross-business group collaboration next, such as BABG and EISBG, with an eye towards leveraging the strengths of each other to jointly provide energy management and charging infrastructure solutions for buildings. With all these experience under the belt, Delta is on track to establish its position as a Thought Leadership in the future and enhance its brand image as a solution leader in various industries by publishing white papers, organizing forums, and other activities.
Courage to transform and embrace a new future with open arms
Foster has served at IBM for many years and has extensive experience in formulating operational strategies and assisting in enterprise transformation. Prior to taking over DSO, Foster had many interactions with Delta, from being an external consultant to becoming an internal promoter. Foster has a more holistic and profound observation of Delta than others, "Having coached many Emerging Business Opportunity (EBO) cases in Taiwan, and Delta is the most committed enterprise in implementing the transformation of New Business Development (NBD)." On top of organizational resources, the management mechanism and processes are established very supportively, and the robust and sustained execution gave Foster the confidence in Delta's promotion of solution business transformation. He looks forward to the smooth development of Delta's solution business in the future, which will extend from internal to external collaboration between customers and partners to establish a complete ecosystem.
At the end of the interview, Foster cited the famous quote from Amazon founder Bezos to encourage colleagues, "There's so much stuff that has yet to be invented. There's so much new that's going to happen. People don't have any idea yet how impactful the Internet is going to be and that this is still Day 1 in such a big way." In a world where significant changes can happen every day, only by keeping an open mind, daring to embrace challenges, and constantly innovating actively can we seize opportunities and forge new horizons.