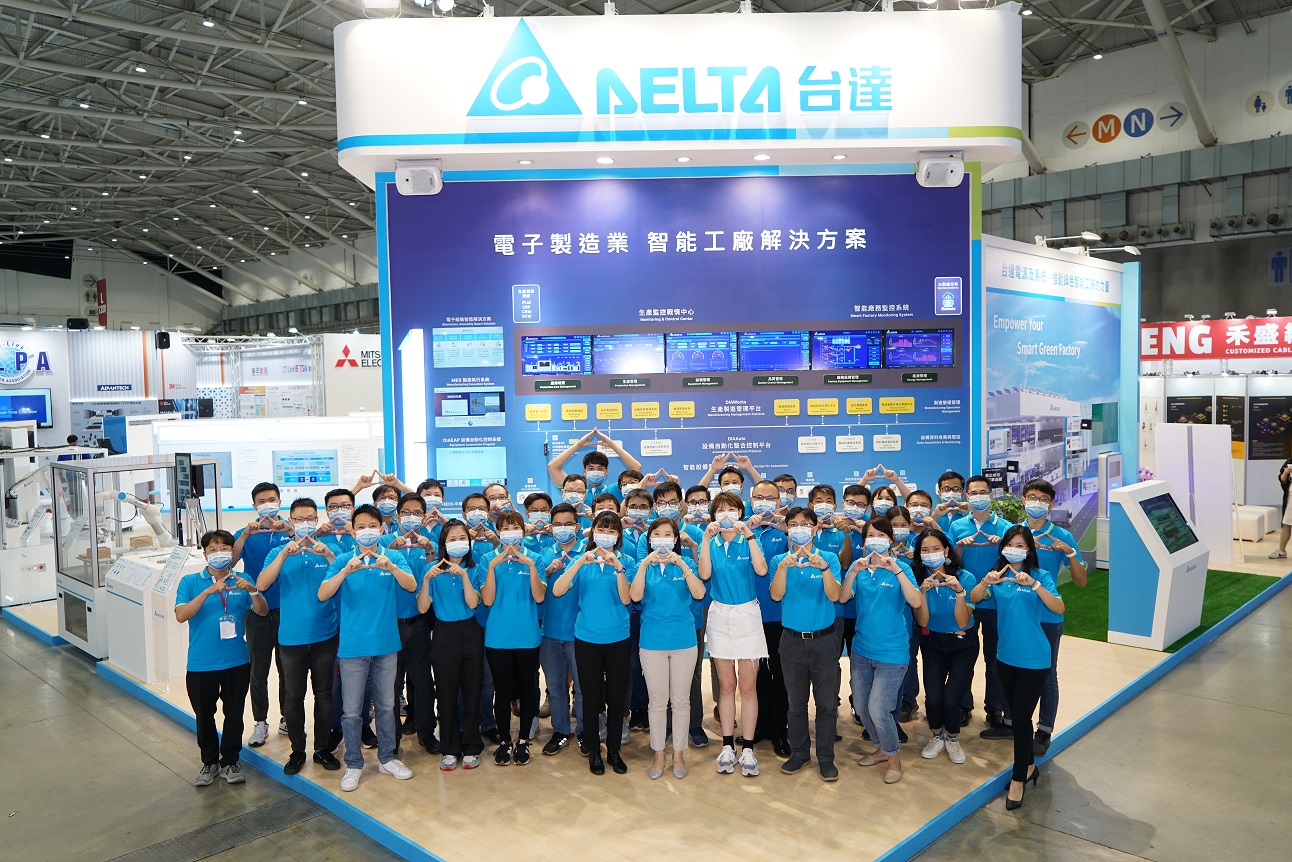 With the theme of "Intelligent Manufacturing, Sustainability, A New Future", Delta planned five exhibition areas to holistically present a smart plant. The picture shows a group photo of colleagues from Delta's Industrial Automation Business Group (IABG).
As countries around the world have put forward carbon reduction policies and targets, energy conservation and sustainability have become the new generation of keywords in the manufacturing industry, and affecting the decision-making of industry players in the future. At this year's Taipei International Automation Industry Exhibition, with a theme of "Intelligent Manufacturing, Sustainability, A New Future", Delta presented five exhibition areas, namely, "Smart Plant Solutions", "Smart Machine Construction and Integration", "Process Automation", "Delta's ESG Implementation" and "Smart Products".
A variety of solutions, and software and hardware products were on display at the exhibition, including a new high-speed fluid solution which uses maglev technology to achieve high speed, high efficiency and energy saving. High-end multi-axis AC servo system ASDA-W3, which can balance production efficiency and environmental friendliness, as well as open-loop torque standard inverter VP3000 on top of other product solutions made their debut, offering transformation and upgrading strategies for manufacturers to improve process and increase added value. In terms of smart factories and machines building, Delta displayed intelligent warehousing and logistics solutions at the exhibition, integrating warehouse management system DIAWMS and material control system DIAMCS, which can synchronize warehousing equipment with material information, provide statistical analysis of the operations, establish a dashboard situation, and bring intelligent manufacturing management to fruition.
For the manufacturing industry, energy conservation during the production process is quintessence of carbon reduction. In response to the trend of growing emphasis on emission reduction in the fluid control industry in recent years. a brand new high-speed high-speed fluid solution was presented at the show. The solution adopts maglev technologies, which eliminates bearing friction loss when the fluid machine transfers high rotating speed to flow and pressures. Compared to traditional volume-type compressors, the refrigerating capacity is higher under the same energy-consumption conditions. Besides high speed, high efficiency, and energy saving, the solution features a direct drive structure and one-button tuning function, which helps save space and tuning time. Besides controsl for water, electricity, oil, and gas, Delta also exhibited green solutions such as for water purifying and HVAC to help customers plan for smart green upgrades and achieve new age sustainable smart manufacturing.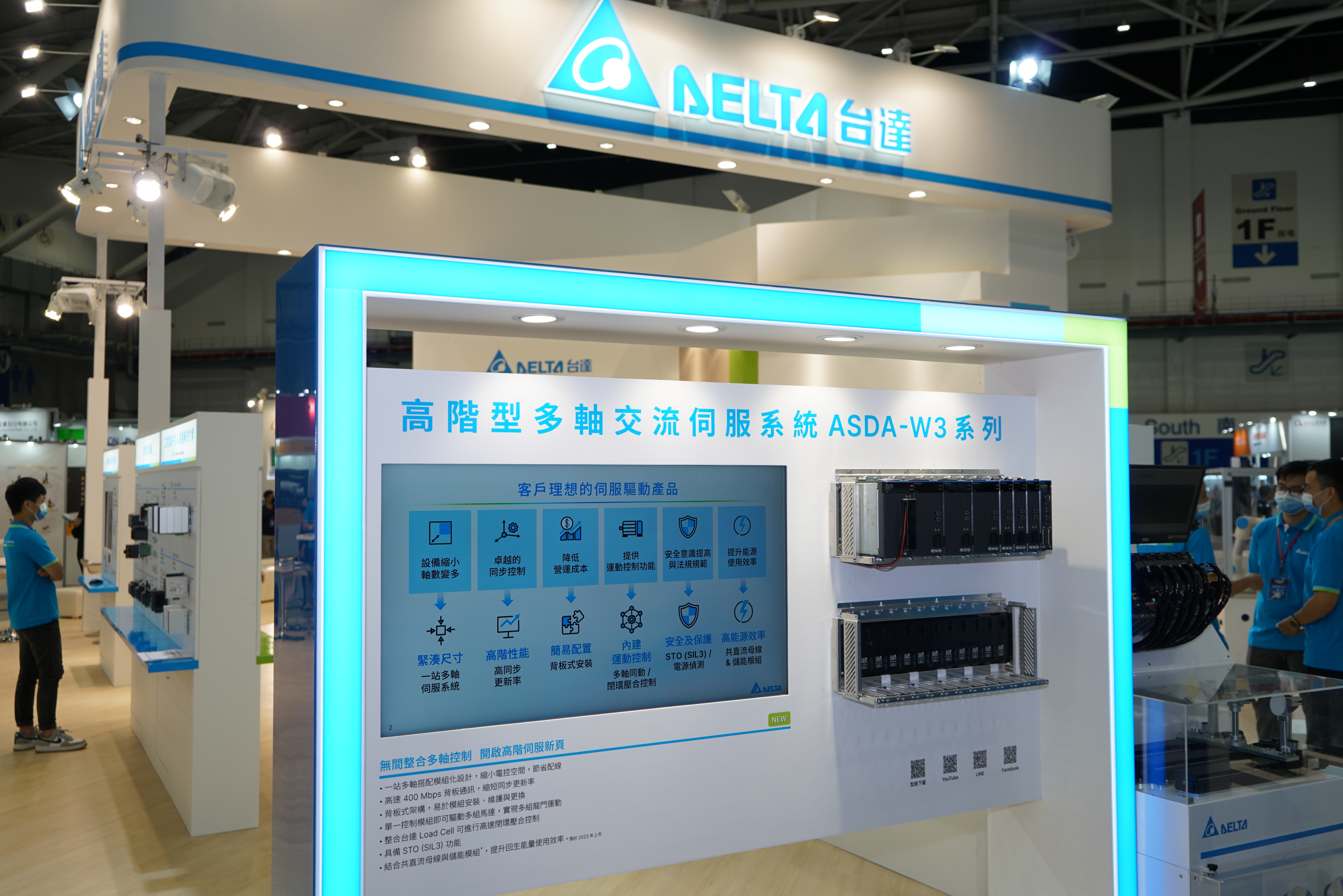 The Advanced Multi-axis AC Servo System ASDA-W3, Open-loop Variable-torque Standard Drive VP3000, among other product service offerings made their debut at the exhibition, providing manufacturers with transformation and upgrading strategies to improve processes and enhance added value.
Delta proposes "modular design" to redefine servo drives
There are various choices of servo drives on the market, however, Delta's Advanced Multi-axis AC Servo System ASDA-W3 stands out from common individual structures and improves situations where messages between axes and synchronous algorithmization all rely on the host controller. The synchronous capability is no longer limited by the host's computing power and update speed. The ASDA-W3 features a modular design and provides three major advantages. First, the specially designed backplane installation achieves easy module switching and axis adding. Second, by sharing the most resources, the ASDA-W3 shrinks the system size and can save more space when it contains more axes. With the same height, it further optimizes space utilization. Third, the ASDA-W3 adopts a single interface for one-step installation, uninstallation, and implementation. Besides the structure, the ASDA-W3 is designed with high energy efficiency. It can have other axes to reuse the regenerative energy from deceleration to reduce energy loss. Users can expand energy storage space when there is large regenerative energy by purchasing extra energy modules at a later date to emergently execute ordered or synchronous stops when the system power shuts down unexpectedly to prevent mechanical or workpiece damage.
Delta is also preparing an online automated exhibition over and above the physical exhibition, and visitors who are interested in this event are welcome to visit https://www.deltaww.com/event/AutomationTPE/index.html