With Swedish citizens increasingly conscious of their carbon footprint, many of them are now choosing to replace their ICE vehicles to help to reduce pollution. With the demand for the chargers needed to keep EVs and their drivers mobile. Assisting drivers in Sweden make the transition from ICE vehicles to EVs is Bilmetro AB, a long-established car dealership. It specializes in Audi, Skoda and VW vehicles. Anticipating its customers' changing preferences for how their cars are powered, in 2020 the company had the foresight to invest in ten UFC200 chargers from Delta. There are being used to charge customers' EVs as well as the dealership's demonstrator EVs.
Bilmetro AB consulted with Svensk Fordonsladdning AB - a leading supplier of DC installations and services in Sweden - to discuss its needs and establish the most suitable charging solution for its requirements. With Bilmetro AB impressed by the UFC200's quality, proven reliability and scalability – which ranges from 50kW to 200Kw – and the benefit of it combining all the elements in one cabinet, an order was placed for ten units. All of the UFC200 chargers were operational by December 2021.
Ideally suited to forward-looking EV Infrastructures, Delta's UFC 200 platform offers the convenience of a single charging station with the flexibility to charge up to four vehicles simultaneously. Two charging points are available for DC fast charging up to 200 kW and two charging points for AC charging with 22 kW each. Thanks to the integrated power management, the available power can be optimised, the charging times of the vehicles can be reduced and the maximum currents at the grid connection point can be secured at all times. For larger DC charging parks, additional variants and configurations are possible to enhance operation or to implement different traffic/parking concepts.
Robert Nilsson, CEO of Svensk Fordonsladdning AB, stated: "We have considerable experience working with Delta. Delta's reliable and robust chargers that are well-designed and well-suited for challenging conditions. It's exceptional technical support perfectly complements its solutions." Arto Suni, Head of Sales and Marketing, EVCS, PCS & ESS, Delta Electronics, EMEA tated: "Bilmetro AB stands out as shining example of a company that's helping to accelerate the uptake of EVs, and Delta's successful partnership with Svensk Fordonsladdning AB is already having a positive impact on the environment."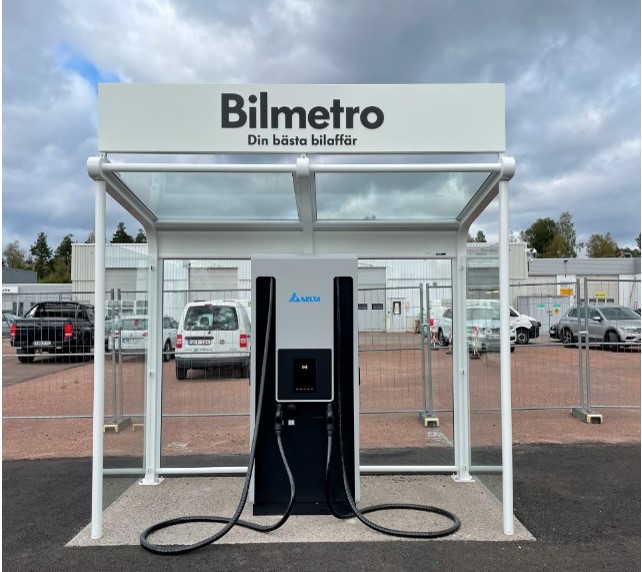 Delta's UFC 200 EV charger helps Bilmetro AB power up for the electric future.