Delta Electronics (Thailand) won the Thailand Best Employer Brand Awards 2022 in the category of Excellence in Training & Development - Best Training Initiatives. Delta received the award at a virtual event by the Employer Branding Institute.
The Best Employer Brand Awards offers recognitions to organizations and individuals in several categories for both Excellence in HR and Excellence in Training & Development. The award jury selects applicants from a broad range of industries demonstrating human resources (HR) leadership for employer branding.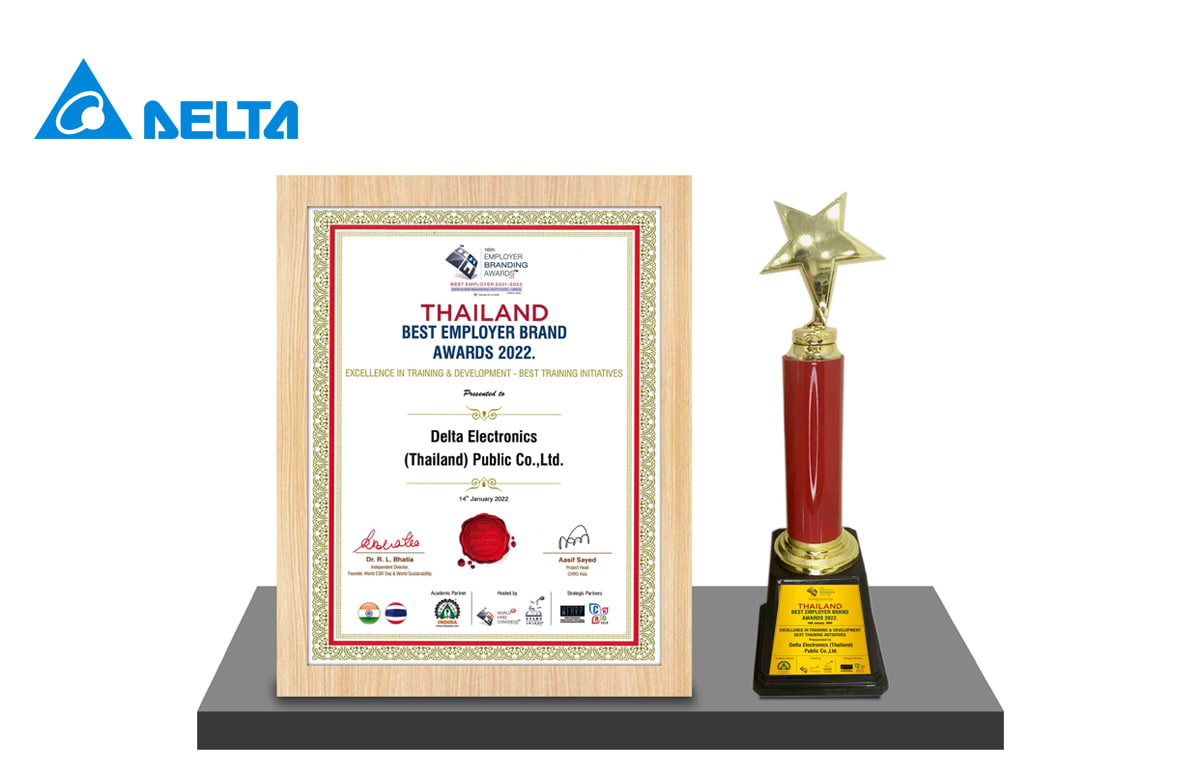 Delta's award-winning training and development features:
• Digital Twin Project:
A computer program that uses real-world data to create simulations that can predict how a product or process will perform. These programs can integrate the internet of things (IoT), artificial intelligence and software analytics to enhance output.
Digital twins reflect the real-world production line performance and behavior. At the production line stage, it can estimate production capacity, predict potential bottlenecks, and pre-exam potential problems. Moreover, it enables optimization/verification before building hardware to avoid extra build revision costs.
• Flexsim Simulation Training:
A modeling method that makes it easier to understand and expand complex models without sacrificing the ability to create a 3D visual representation of a system. It also adds an element of flexibility and responsiveness to data updates when considering different simulation scenarios.
Delta's Flexsim Simulation Training teaches users the basics of building a simulation model in FlexSim and offers trainees an excellent foundation of know-how in Flexsim by practicing the basic to advanced tasks for building a simulation model.
After completing the Digital Twin training simulation and implementation, Delta hosted the 2021 Delta Thailand Digital Twin: FlexSim Simulation Project Award. Employees voted to choose the best FlexSim Simulation Project implemented at Delta plants. Award-winning projects leveraged innovative ideas and improvements using the FlexSim program for both planning and design applications of production processes.
Mr. Vichai Saksuriya, Delta Thailand VP of HR & Administration, received the award virtually on behalf of Delta. Speaking online, he said, "Despite the COVID-19 pandemic, Delta continues to provide comprehensive digital training for our people. We invest in improving our employee experience. Our HR also successfully implemented an E-learning platform that can help our employees for safe distance learning without physical limitations. We aim to make continuous learning a part of our work and life at Delta."